It's been almost a month since I've posted. Sorry about that. But this new info that I've been made aware of has me seeing red, actually, it would actually prevent me from seeing red. More after jump.
Friend of mine Ben Archbold decided to share this bit of news with me from
Gizmodo.com.au
, Australia will not be getting Nerf Rival blasters.
ENGAGE RANT!
WHAT THE HELL!?!
Our toy safety laws won't permit the sale of Rival blasters because their too powerful? Blue trigger Dart Tag stuff were more powerful than Elite and we still got those. But our nanny state toy laws are saying we can't have them because a kid might buy one from a shop and shoot their eye. You can also buy cricket bats from shops too, I'm pretty sure those will do more damage to someone's head than a ball made from foam.
"Buuuuut Rob... you're not meant to hit people with cricket bats, but you are meant to hit people with those foam balls."
Ok then, Frisbee. You're meant to throw those at someone else. Ever been hit in the head by one of those? I fuggin hurts. And Zing Bows. I've seen those for sale here and I'm willing to bet they'll fly faster and further than a Nerf ball. They'll hit harder too. Oh, water bombs/balloons. Ever been hit in the kidneys by one of those? OUCH! And, AND, you're meant to throw those at people. Foam swords, you and a mate have one each, what's the first thing you're gonna do with them? Try to hit each other with them. And you can get those things anywhere.
But OOOOOOHHHHHH NNNNOOOOO, A tiny dimpled foam testicle is TOO DAMN DANGEROUS TO BE SOLD BECAUSE IT MIGHT HURT SOMEONE! Ever trod on a Lego brick? Ever felt the pain of having your foot partially impaled by a small plastic construction medium? Everyone has. It hurts LIKE HELL! And Lego is fuggin everywhere!
Darts. I love a good game of darts, who doesn't? How easily available are those weighted pointy metal bastards? Very, is the answer. They're even designed to fly straight too and you can get them from any sports store... ANY.
So, in-spite of all the far more dangerous toys available, why no Rivals? Why not sell it as sports equipment? Hasbro... did you even try? Did you even try to sell Rivals here or did you throw it into the 'too hard basket' on top of the Rampage's blast shield and the Stampede's 50 dart drum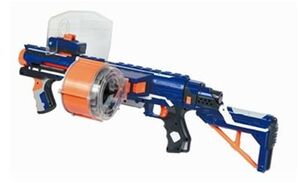 Did Hasbro back down from toy safety laws like a kid backing down from his mum who denied his request for a chocolate bar?
Now look, I'm all for laws that make sense. Anti smoking laws, good, they're not harsh enough I reckon. Firearms, good, gun control is a good thing and it works. But this, this 'no Australia, you can't shoot balls' thing is just silly and makes no sense what so ever. All it's going to do is force those who want Rivals to purchase from overseas, pumping more of our money into some other country's economy.
Now I'm tired, pissed off and thirsty... I'm going to bed.
HUMPH!
~ Rob